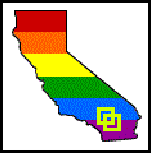 © 2023 Golden State Squares
Learn to Square Dance!
A new SSD (Social Square Dance) class will be starting on September 20th. The first two class nights will be free to new students!
Square dancing is a great way to make new friends and exercise while learning something new and fun!
All are welcome! Come alone or with a friend!
No dancing experience necessary! No special clothes required!
Two left feet are quite okay!
If you can walk, you can Square Dance!
We dance to a wide variety of music, from country to soul to disco to show tunes to traditional folk and current pop!
For more info click on "Classes" above.
Thanks for visiting our website! We are a gay and lesbian square dance club from Orange County, California. All square dancers are welcome to dance with us. There is no dress code, and partners are not required.
Join Us – This web site provides information about our club, our activities, and other matters related to square dancing. Whether you know how to dance or not, this is a fun and active way to spend your Wednesday nights. We also have dances on selected Saturday nights and social events that both dancers and non-dancers are welcome to attend. Come by and check us out to see if you would like to join the fun!
Join us at our weekly classes on Wednesday nights. If you know how to dance you can join in right away; if you are not yet a dancer come by and meet the club members.
Learn to Dance – To fully participate and join the fun you will want to learn how to dance. If you would like to learn more about our classes or how to learn to square dance please contact Jim at jbishop904@yahoo.com New classes usually start in September.